Is Uber in Barcelona, Spain? Guide to Barcelona Travel 2023
Are you traveling to Barcelona soon? Wondering what the options are for transportation? Is Uber in Barcelona? Should I rent a car? How do I get around the city center? We have got you covered with all your questions answered about visiting the Catalan capital, Barcelona!
Affiliate Disclaimer: Some links on this blog are affiliate links. This means that, at no additional cost, the author may earn a small commission if you purchase through these links. As an Amazon Associate, I earn from qualifying purchases.
Uber in Barcelona?
Yes, Uber is in Barcelona. It was approved by the Catalan government to operate in Barcelona in March of 2021. It isn't as popular or readily available as in the United States. Uber is often more expensive than a cab.
Currently, Uber doesn't have many drivers operating, making connecting on the Uber app difficult. Also, beware that the status is in flux between Uber being a legal battle in Barcelona due to protests on both sides, Uber and traditional Taxis. The Spanish government has put strict regulations in place.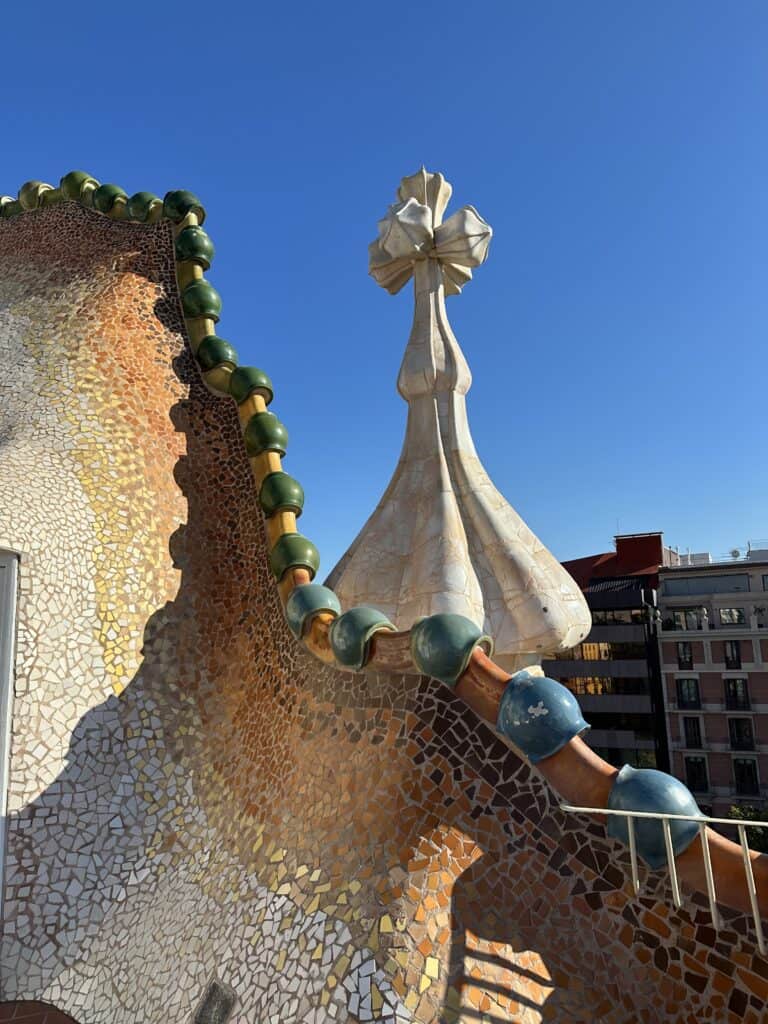 Transportation in Barcelona
Taxi-Hailing Apps
Use Free Now, Cabify, and Bolt apps for taxi-hailing apps, or hail one off the street yourself. There are also taxi stands conveniently located all over the city. Cabify drivers are very similar to Uber. The Spanish government classifies Cabify and Uber as VTC drivers. It means that they cannot pick up a passenger without an appointment and cannot use the taxi lanes.
Taxi
With 11,000 Barcelona taxis, they are convenient and safe. To hail a cab on the side of the street by raising your arm when you see their green light, indicating they are free. There are also taxi stops along the major areas. Barcelona taxis are black and yellow, making them easily identifiable. All taxis should take major credit cards and have a meter.
Rental Car
There isn't much need for a car inside of Barcelona. If you want to explore outside of the city, then you may want to rent a car. Barcelona has an extensive train system, but a rental car may be more convenient if you want to venture to smaller towns.
Public Transportation
Barcelona offers an excellent public transportation system. Use the Barcelona Metro app or my favorite City Mapper. It will tell you the cost of all modes of transportation. The metro is the best way to get around Barcelona.
Barcelona has over 1000 buses operating over 100 routes throughout the city. It is a great way to commute to your location.
There are two Tram lines in Barcelona to use when commuting around the city.
Walking
We found that Barcelona was very walkable in addition to using public transportation. Walking in Barcelona is the cheapest way to get around. Barcelona is a big city, though, and there are times when you must combine the metro and walking, which we think is the best choice.
Take a guided tour
If you want to adventure out to an area outside of Barcelona, consider taking a tour if you are staying primarily in Barcelona.
Barcelona has excellent guided tours, from free walking tours and food tours to tours of all the tourist attractions.
Hop on Hop Off Bus
This is an excellent option for getting around Barcelona and also getting history at the same time.
How to get to Barcelona
Fly into Josep Tarradellas Barcelona–El Prat Airport (BCN). Most major airlines fly into Barcelona Airport, including American Airlines, Finnair, Iberia, British Airways, Aeromexico, EL AL Israel Airlines, United and Vueling Airlines, and smaller airlines. Several airlines From the United States have direct flights to Barcelona.
Train
Train from other European cities or other cities in Spain. There are multiple train routes all over the country and Europe to keep you connected. The main train stations in Barcelona are Espanya, Catalunya, Estació de França, Passeig de Gracia, and Sants Estació. The most central station is Passeig de Gracia.
How to get from Barcelona Airport to the city center
Taxi
There is a queue right outside of the terminal for taxis. Just follow the signs inside the airport that will lead you out of the terminal to the taxi lines. It is a 30-minute ride into Barcelona, depending on traffic.
Train
This is the cheapest option to get into Barcelona. It costs 2-3 euros, and at the same time, it takes by taxi (roughly 30 minutes).
Bus
Aerobus is part of the Barcelona public transportation system. There are three bus stops at the Barcelona airport. There is one located outside of T1. Outside of T2, there are two bus stands. During the daytime, you would take Bus 46, and at night, Bus N17.
Airport Transfer service
Pre-arrange a car service from the airport to your destination. Besides picking the size vehicle, it's convenient and no waiting in queues.
Free now App
You can schedule a taxi to pick you up in a designated area instead of waiting in the queue for a taxi. This was especially helpful for us on our last trip since we were traveling with a group size of five. We could preorder a taxi to carry all of us plus our luggage.
Car Rental
A car rental is a good option, especially if you plan on exploring outside of Barcelona or other cities in Spain. Compare how much a train or tour would cost and if your hotel has parking charges.
If you rent a car, apply for an International Driving Permit (IDP).
Where to stay in Barcelona
Petit Palace Boqueria Garden
Excellent location, just off La Rambla. Within walking distance to the Barcelona Cathedral. Great shopping and restaurants within walking distance. A relaxing courtyard and bar. It can accommodate traveling families or groups. Metro station within minutes.
Hotel El Palace Barcelona
It is located in the Eixample District, not far from La Rambla. Neo-classical hotel with classic decor, Gaudí's Casa Batlló is only a 15-minute walk. Safe and centrally located. 2 restaurants and a spa on the premises.
It is in an excellent location across from the Barcelona Cathedral. Rooftop terrace with great views of the Cathedral plus a pool and spa. Outdoor terrace cafe in the square.
What to pack for Barcelona
Crossbody bag – Barcelona has pickpockets, especially on La Rambla. Keep your belongings safe by wearing a crossbody bag.
Insect repellent – I got bitten up quite a bit while dining around Barcelona. We dined outside almost exclusively.
Comfortable walking shoes – I recommend bringing two pairs and switching them.
If you are visiting in the summer, consider wearing dresses or other loose-fitting, lightweight clothes. It can get very hot sightseeing.
Sunglasses & a hat
If you are visiting in the spring or fall, bring a raincoat.
Check out our blog post of Best Travel Essentials for Packing a Carry-on Bag 2023
Travel Insurance
While nobody wants to think about accidents, illnesses, or other unforeseen events during their travels, being prepared is essential. That's why getting travel insurance is crucial for any traveler. This can cover medical emergencies, trip cancellations, and lost luggage. Travelex and Travel Guard are some of the best travel insurance companies that provide comprehensive coverage at reasonable rates.
Currency & Language in Barcelona
Catalan is the official language of Barcelona, but Spanish is also spoken. Using Catalan will go a long way with locals, though, as they are very proud of their Catalan history.
Spain's currency is the Euro. I like to use the app Xe to figure out the conversion.
It will cost you more if you pay in your country's currency. Always use the local currency for the best rate. Use Xe to determine the cost in your country's currency.
Tipping isn't as common in Spain as we are used to in the United States. If you want to tip, round up.
How to stay connected while traveling in Barcelona
An eSIM is a great option to stay connected and not incur expensive cell carrier charges. We recommend buying an eSIM from Airalo.
How to use an eSIM Card
Are you going on a trip and want to stay connected without racking international roaming charges on your cell phone? Here's what you need to do: set up wifi calling before you leave home. It's easy to do and will allow you to call and text using wifi even when your phone is in airplane mode.

You can even Facetime other Apple users if you have an Apple phone. Android users can communicate with WhatsApp.

Another great option is to buy an eSIM card via Airalo. Upload an eSIM to your phone (don't delete your eSIM from your cell phone carrier; switch it off for Data usage). Your eSIM provider will give you instructions on how to do this. Be aware that the eSIM is for data only and will only work in the countries where you've purchased the service. If you need to make calls or text using data, you can still use WhatsApp. Stay connected and save money with these tips!
Phrases in Spanish & Catalan to know for your visit to Barcelona
¿Puedo pagar con tarjeta? – Can I pay with a card?
Gracias – Thank you
Hola – Hello
Adiós – Goodbye
¿Cómo estás? – How are you?
Buenas tardes – Good Afternoon
Buen día – Good Morning
*Catalan is the official language in Barcelona, but Spanish is also spoken
Bon dia – Good Morning
Gràcies – Thank you
Bona nit – Good Evening
Bona tarde – Good Afternoon
Adéu – Goodbye
Final thoughts on Uber in Barcelona
Uber is an option; we highly recommend hailing a traditional cab or utilizing the user-friendly Cabify or Free Now app for an enhanced ride experience. The Barcelona Metro is an excellent option for budget-conscious travelers to get around the city and from the airport. Say goodbye to costly transportation and enjoy exploring this fabulous city on foot.
Go Grab Life & Happy Exploring!