Ultimate 5 days in London Itinerary for first time Visitors
Are you ready to explore one of the world's most vibrant and fascinating cities? Below is our 5 days in London itinerary for first-time visitors. London is a city full of rich history and unique attractions – the perfect destination for adventure! With our 5 days in London Itinerary, there's no way that you won't find something to enjoy.
Whether meeting Big Ben outside Westminster Abbey or dining along the River Thames, London will capture your heart and you won't want to leave!
We've crafted this guide of 5 days itinerary in London so you can get the best out of your time in London. Let's start planning your dream trip right away!
Affiliate Disclaimer: Some links on this blog are affiliate links. This means that, at no additional cost, the author may earn a small commission if you purchase through these links. As an Amazon Associate, I earn from qualifying purchases.
5 days in London Itinerary: Day 1
Arrive in London
Want to beat jetlag? Here's a pro tip: arrive at your destination at night. If you take a red-eye flight, landing in the morning, it can make adjusting harder. We prefer to take a morning flight and arrive in the evening.
If you choose the nighttime arrival, head straight to bed when you get to your hotel. It will likely be close to midnight, and after a long travel day, falling asleep in a bed instead of on the plane will be much easier and more comfortable. This will help combat jetlag. When you wake up the next day, you will be ready to explore and make the most of your trip.
If you prefer the red-eye flight, drop off your bags at the hotel (your room will likely not be ready) and keep moving. Use the Nanny app to store your luggage if your hotel is far from where you want to tour for the day.

English Breakfast
First, treat yourself to a hearty English Breakfast. An English breakfast consists of mushrooms, tomatoes, eggs, bacon, sausages, baked beans, and toast. The dark sausage is called blood sausage; need I say more? An English Breakfast is also called a Fry Up. This hearty meal with give you fuel for the day ahead! One of the restaurants that we recommend for breakfast is The Breakfast Club. There are several throughout London.
Take a free walking tour
After breakfast, consider taking the Hop-on Hop-off Big Bus tour and stay awake until at least 8 pm local time. This will aid your body in adjusting to the time difference and you will see much of the city you will explore in the next few days. Alternatively, do the Rick Steves walk below to get your blood pumping after the long flight.
5 days in London Itinerary: Day 2
Take a free walking Tour
Discover the joy of exploring new cities with the fantastic free walks on Rick Steves' app! These walks allow you to go at your own pace and allow you to stop for a delicious bite or spend extra time at places that captivate your interest. They are the perfect starting point for getting acquainted with a city for first-time visitors. Once familiar with the city's layout, you can choose which sites to explore further. So get ready to embark on an unforgettable journey of discovery, all at your leisure! And the best thing is, they are FREE!
There are other free walking tour's besides the Rick Steves'. Free Tours by Foot, London Walks, Devour Food Tours, New Europe Walking Tours and GuruWalks are great sources.
London Eye
The Millennium Wheel, also called the London Eye, is a giant Ferris wheel in London's heart. It has a height of 135 meters and provides breathtaking 360-degree panoramic views of the city's skyline. View major landmarks like the Houses of Parliament, St. Paul's Cathedral, and the Shard.
It takes about 30 minutes to complete a full rotation on the London Eye, which allows enough time to take in all the spectacular views. The attraction also has state-of-the-art audiovisual guides, providing a fascinating insight into London's history and culture.
River Thames
The River Thames is the most iconic river in England, flowing through the heart of London and the surrounding countryside. It is the second-longest river in the United Kingdom at 215 miles from its source near the Cotswolds to the North Sea. The river is rich in history and culture and played an essential role in the development of London, serving as a trade route for centuries. It is also home to diverse wildlife, including otters, seals, and various fish species.
Big Ben and Elizabeth Tower
Elizabeth Tower is the iconic clock tower and the largest bell inside is Big Ben. In 2012, the tower was named Elizabeth Tower for Queen Elizabeth II's 60th Jubilee. Before that renaming, it was called Clock Tower. It adorns the Palace of Westminster on the north bank of the River Thames in London. This majestic structure has a unique architectural style, featuring neo-Gothic design elements that are a tribute to the Victorian era.
Elizabeth Tower was completed in 1859 and has been a symbol of British culture and heritage. It has endured numerous renovations and restorations to ensure its longevity and maintain its status as a UNESCO World Heritage site, as well as one of the most recognizable landmarks in the world.
Big Ben & Elizabeth Tower Through History
During WWII, the clock face went dark in compliance with the wartime blackout rules. It survived the bombings, even escaping a bomb that hit the Parliament building. It kept time and chiming while Parliament was restored.
The green lantern at the top of the tower, the Aryton light, shines when Parliament is in session. This was installed at the insistence of Queen Victoria. She wanted to see when the House of Lords was in session after dark.
Statue of Boadicea
The Statue of Boadicea is a bronze sculpture next to Westminster Bridge in London. This stunning statue depicts Boadicea, a legendary warrior queen that led the Iceni people in a revolt against the Romans during their occupation of Britain. The statue stands on a chariot with her daughters, who also fought alongside her in battle. Boadicea is wearing traditional Celtic clothing and wielding a spear as she looks out fiercely over the Thames River.
The famous sculptor Thomas Thornycroft created this remarkable piece of art in 1902. The statue serves as a symbol of national pride and the historical resilience of the British people.
Parliament Square
Parliament Square is a famous public square located in the heart of London. The square is in front of the Houses of Parliament, known for the famous Winston Churchill and Nelson Mandela statues.
The Houses of Parliament
The Houses of Parliament is a historic building complex that serves as the center of the United Kingdom's political power. It is also known as the Palace of Westminster. Two chambers of the UK Parliament are located here, the House of Commons and the House of Lords.
The complex comprises several stunning Gothic Revival-style buildings, including the iconic Elizabeth Tower and the Big Ben bell. The Houses of Parliament and Parliament Square are steeped in history. They offer visitors a glimpse into the rich political heritage of the UK.
If you wish to visit the Houses of Parliament, buy tickets beforehand. This tour skips the line into the Houses of Parliament and Westminster Abbey.
Westminster Abbey & the Queen's Jubilee Gallery
Westminster Abbey is a world-renowned Gothic abbey that has been the site of numerous coronations, royal weddings, and burials for centuries. The abbey has been an important symbol of British national identity and a treasured historical landmark. It was founded in the 11th century by King Edward the Confessor and has been expanded and renovated numerous times.
The abbey boasts beautiful stained glass windows, intricately carved tombs, and breathtaking architecture. It is home to countless historical and cultural artifacts, including the tombs of many British monarchs, influential statesmen, and famous writers like Charles Dickens and Rudyard Kipling.
The Queen's Jubilee Gallery is also housed here. It is a stunning collection of royal portraits and artifacts that celebrate the long reigns of British monarchs. The gallery is high above the abbey's nave and provides visitors with a panoramic view of the abbey's interior. The Queen's Jubilee Gallery offers a unique insight into the history of the British monarchy and is a must-see for anyone visiting Westminster Abbey.
The Abbey has a beautiful evensong at 5 pm Monday, Tuesday, Thursday, Friday, Saturday, and 3 pm on Sunday.
If you are interested in a guided tour of Westminster Abbey plus a walking tour, this one is highly recommended. It also includes your admission to the Abbey.
Walking along Whitehall
Walking along Whitehall Street in London is truly an experience like no other. This historic street is jam-packed with iconic landmarks, including Downing Street, the Prime Minister's home, and the Horse Guards Parade.
Steeped in history, Whitehall Street holds many stories and fascinating facts that add to its allure. For example, the street's name can be traced back to the reign of King Henry VIII, who installed a large palace with white walls.
In addition, the annual Trooping the Colour ceremony takes place on Horse Guards Parade, a dazzling spectacle that never fails to leave a lasting impression. A stroll down Whitehall Street is the perfect opportunity to immerse oneself in London's rich past and experience the city's incredible architecture and landmarks up close.
The Cenotaph
The Cenotaph in London is a war memorial erected after World War I. It was designed by Sir Edwin Lutyens and is located on Whitehall Street. The Cenotaph represents the United Kingdom's effort to remember and honor the sacrifices of the British citizens who died in the conflicts of World War I, World War II, and other battles.
Constructed from Portland stone, the monument is a hollow rectangle that measures over 35 feet long and 10 feet high. It comprises seven sculptural forms that symbolize sacrifice, courage, and justice.
The Cenotaph commands an enormous sense of respect. It is a focal point for national remembrance ceremonies, such as Remembrance Sunday, Armistice Day, and other significant military occasions throughout the year.
#10 Downing Street
#10 Downing Street is a historic building that serves as the official residence and office of the United Kingdom's Prime Minister. The building dates back to the early 1700s and features a distinctive black door with a lion-shaped knocker.
The Prime Minister's living quarters are on the third floor, while the Cabinet Room and other government offices are spread throughout the lower floors. The building plays a significant role in British politics. It has been a meeting place for world leaders, the site of notable speeches and announcements, and a symbol of British power and influence for centuries.
Banqueting House
Banqueting House is an impressive architectural masterpiece. It served as the site for elaborate court celebrations and banquets for the British monarchs in the 17th century. Designed by Inigo Jones, it is widely considered one of the most significant buildings of Stuart architecture. It symbolizes the unity between art and politics during that era.
The building is renowned for its magnificent painted ceiling, featuring a grandiose fresco by Peter Paul Rubens that depicts the divine right of kingship. The Banqueting House was the site of King Charles I's execution in 1649.
Banqueting House offers visitors a glimpse into the opulent world of the kings and queens of the past. It is open to the public on limited days.
Horse Guards
The Horse Guards next to Whitehall and faces the famous Downing Street; the Horse Guards building serves as the official entrance to St. James's Palace and Buckingham Palace. The building was initially constructed in 1745 and has since been a ceremonial site where the Changing of the Guard is held daily.
The Horse Guards building features striking architecture combining the baroque and rococo styles. The impressive horseback guards attract thousands of visitors annually. Additionally, it serves as a reminder of the city's rich history and is a must-visit for anyone looking to explore London's cultural heritage.
This is also a great place to get a picture of a Guard – hard to find a place where they are closer than here.
Trafalgar Square is the final stop of the Westminster Walk
Trafalgar Square is one of London's most iconic landmarks in the city's heart. The square is named after the Battle of Trafalgar, where Admiral Nelson led the British Navy to victory over the French and Spanish.
The square is adorned with stunning bronze lions and a towering column that honors the Admiral's heroic achievements. It is a popular destination where many significant events and demonstrations have been held in the square.
The National Gallery, the United Kingdom's leading art museum, is located on the square's north side and attracts thousands of visitors annually. In addition, Trafalgar Square is home to numerous cafes, restaurants, and shops, making it an excellent spot for a day out in the city.
Eat lunch near Trafalgar Square. I recommend the Sherlock Holmes Pub if you crave fish & chips or another traditional British dish.
Buckingham Palace is steeped in history and symbolizes the British monarchy and its important role in British society. Book tour passes to visit Buckingham Palace State Rooms in advance. I also recommend visiting The Royal Mews, where you can see the Royal carriages, including the Diamond Jubilee State Carriage, and learn about the Royal Horses. If you are interested in art, consider booking the Queen's Gallery at Buckingham Palace.
Buckingham Palace is the official residence of the British monarch in London since the reign of Queen Victoria in 1837. Visiting Buckingham Palace is a once-in-a-lifetime opportunity to experience the grandeur and opulence of the British Royal Family's official residence.
The palace has 775 rooms, including 19 staterooms, 52 royal and guest bedrooms, 188 staff, 92 offices, and 78 bathrooms. Guests can admire the lavish State Rooms used for official and ceremonial occasions. They are adorned with priceless works of art, ornate chandeliers, and antique furniture. The throne room is the most impressive, featuring golden thrones and an elaborate red carpet.
Visitors can also explore the Picture Gallery, which houses an extensive collection of artworks by esteemed artists such as Rembrandt and Rubens. The palace also boasts impressive gardens, including the famous Buckingham Palace Garden, with over 350 wildflowers and a private lake. A visit to Buckingham Palace is a truly unforgettable experience, providing a glimpse into the regal world of the British monarchy.
Changing of the Guard at Buckingham Palace
The Changing of the Guard at Buckingham Palace has been a time-honored tradition for over 300 years. It takes place outside the gates of Buckingham Palace.
The ceremony consists of soldiers from the Foot Guards and the Household Cavalry marching from the Wellington Barracks to Buckingham Palace. At 11 am, the Old Guard hands over its duties to the New Guard, a process which is accompanied by musical fanfare and the band playing the national anthem.
The ceremony lasts approximately 45 minutes and is witnessed by thousands of spectators who gather to see the spectacle. It is fascinating to see the soldiers in their uniforms, the precision of their marching, and the magnificent horses of the Household Cavalry.
While in London, definitely try to see the Changing of the Guard. The British do pomp and circumstance like no other. We were fortunate to be in London for the opening of Parliament one year. We saw the parade and the carriage carrying Queen Elizabeth II, the now King Charles, and Queen Consort Camilla. It was truly amazing and something we will remember for a long time!
This tour includes entry into Buckingham Palace and a tour guide for the Changing of the Guard.
The National Gallery
The National Gallery in London has over 2,300 Western European paintings dating from the Middle Ages to the 20th century. The gallery was founded in 1824 and has since become one of the world's most visited museums, attracting millions of tourists yearly.
The collection includes works by famous artists such as Leonardo da Vinci, Vincent van Gogh, Rembrandt, and Botticelli. Apart from the permanent collection, the National Gallery hosts temporary exhibitions, tours, talks, and events throughout the year.
Admission to the museum is free, making it an accessible and affordable cultural experience for everyone. If you would like to take a guided tour of the highlights of the National Gallery, this one is very popular and sells out quickly.
Covent Garden
Head to Covent Garden for dinner and live entertainment in the evening.
Covent Garden is a vibrant and bustling district in the heart of London, famous for its markets and theaters. Once a fruit and vegetable market, Covent Garden is now home to numerous shops, cafes, restaurants, and boutique stores.
Covent Garden is also a popular destination for street performers who entertain crowds with amazing acrobatic skills, magic acts, and music. Covent Garden has a rich history and lively atmosphere; mind your wallet while you watch street performers as it attracts tourists and, therefore, pickpocketers.
Seven Dials Market and Neal's Yard
If you seek something more off-the-beaten-path than Covent Garden, head to Neal's Yard or the Seven Dials Market. Seven Dials is located in the heart of the West End. It is a lively food hall with a large selection of food vendors with something for everyone. The building it is housed in is a great example of Victorian architecture, with an atrium with high ceilings. There are often musical performances, pop-up shops, and other activities. Neal's Yard is a colorful hidden gen in a courtyard of stores and restaurants. It has a friendly community vibe and was developed as a health, wellness, and sustainability corridor.
5 days in London Itinerary: Day 3
The Tower of London, also known as Her Majesty's Royal Palace and Fortress, is a historic castle on the north bank of the River Thames in central London. The Tower of London was first built in the 11th century by William the Conqueror as a royal palace and later became a fortress used to protect London from invasion.
Throughout its long and storied history, the Tower of London has served as a royal palace, a treasury, a prison, a zoo, and a place of execution. Its most famous residents were undoubtedly the imprisoned monarchs Anne Boleyn and Lady Jane Grey, executed within its walls.
Today, the Tower of London is most famous for being where the Crown Jewels of the United Kingdom are kept. Visitors to the Tower can take a guided tour and see the Crown Jewels, learn about the history of the Tower, and view the various exhibitions and displays that showcase its rich past. Plan on spending at least two hours at the Tower of London. One of the most popular tours is to attend the Opening Ceremony of the Tour and skip the line to see the Crown Jewels.
The Tower Bridge is a historic and iconic structure spanning the River Thames. It was designed by Sir Horace Jones and opened in 1894, becoming one of the most recognizable landmarks in the city.
Tower Bridge is often mistaken for London Bridge. Don't be that tourist that confuses it. London Bridge is very underwhelming, considering it has a nursery rhyme.
The bridge consists of two towers connected by a suspension bridge and a bascule bridge, which can be raised to allow ships to pass through. The bridge is 800 feet long and 213 feet high and made of over 11,000 tons of steel.
Today, the Tower Bridge is a popular tourist attraction that offers stunning views of the city and its surroundings. If you have time, visitors can walk along the high-level walkways and explore the exhibitions in the bridge's towers, which tell the story of the bridge's construction and its place in London's history.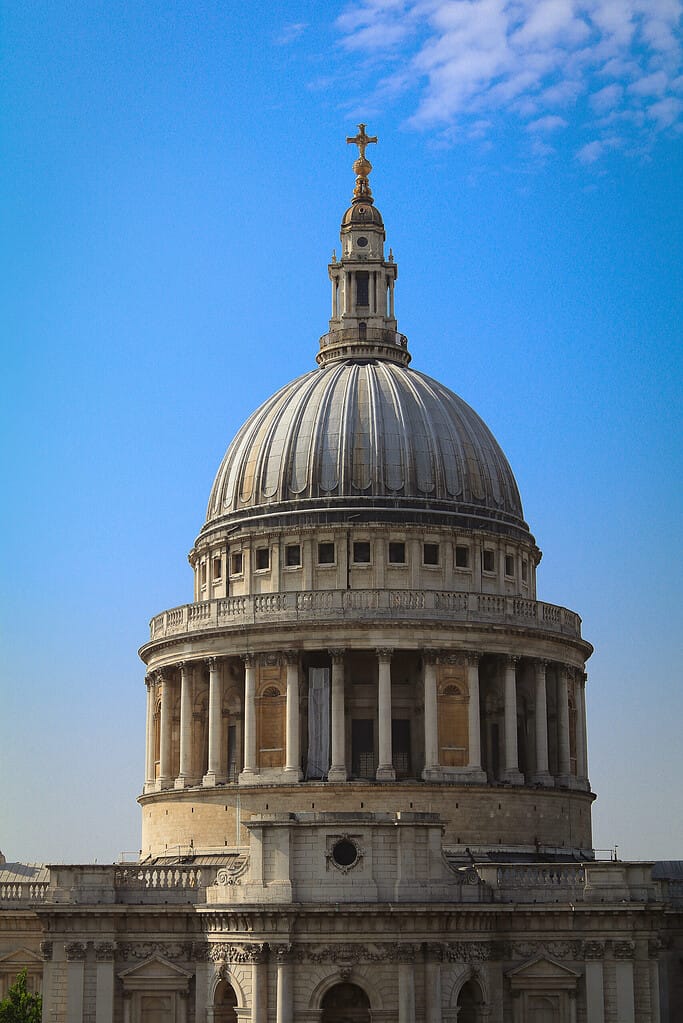 This landmark is the creation of Christopher Wren. The current church was constructed after the Great Fire of London in 1666. It was completed in 1711 and took 39 years to build. Dating back to 604AD, five other churches have sat on this site. A timeline of the site and world happenings is etched on the stone in the catacombs.
The most distinguishable feature of the Cathedral is its dome. It is the second largest in the world. It weighs approximately 66,000 tons, with eight arches supporting the dome. You can climb the 560 steps to the top of the dome to see an excellent view of the City. I highly encourage you to do this as it is quite the experience!
Famous people to be buried at the Cathedral are the Duke of Wellington, Admiral Nelson, and Christopher Wren. It held the funeral of Winston Churchill and the wedding of King Charles (then Prince Charles) and Princess Diana.
Plan to spend about 40 minutes at St. Paul's Cathedral, a bit more if you climb to the top of the dome. Rick Steves has a free walking tour of the inside for those interested. If you can arrange your schedule to do the Choral Evensong at St. Paul's, it's beautiful. It is free and offered daily at 5 pm, 3 pm on Sundays.
One New Change for great views of St. Paul's Cathedral
For those looking for a different view of St. Paul's, One New Change is a commercial and office building with stunning views. This seven-story structure, designed by renowned architect Jean Nouvel, stands out with its futuristic glass panels and curved metal frames.
One of the building's most outstanding features is its terrace which offers an unobstructed view of St. Paul's Cathedral's dome, providing a unique and unparalleled view of the skyline of this historic and picturesque city. The building also houses various shops, cafes, and restaurants, making it an excellent destination for tourists and locals.
Millennium Bridge
The Millennium Bridge is a pedestrian-only suspension bridge that spans the River Thames in London. It connects the City of London on the north bank to the Tate Modern and Shakespeare's Globe on the south bank. The bridge, which opened in 2000, was designed by the architect Norman Foster and engineer Anthony Caro. It features a sleek and modern design, with slight undulations on the surface to create a sense of movement. If you can make your way to this bridge in the evening, it makes for a stunning picture of a lit-up St Paul's.
Tate Modern is free entry, and it has an observation deck with great views
Tate Modern is one of the world's leading contemporary art museums. It is located on the South Bank of the River Thames in London. It was established in 2000, and since then, it has attracted numerous visitors worldwide.
The museum boasts an extensive international modern and contemporary art collection, including paintings, sculptures, installations, and photographs. The museum also offers views of London's skyline from its terrace.
The terrace is a work of art designed by Herzog & de Meuron, the architects responsible for transforming the building from a power station to a museum. It offers a stunning panoramic view of the city, with the River Thames flowing below, the Shard, and St. Paul's Cathedral towering above.
The terrace is also a great spot to enjoy food and drinks from the museum's restaurant while taking in the breathtaking scenery. Tate Modern is free and undoubtedly a must-visit for art lovers and anyone seeking a memorable experience of London's beauty.
Shakespeare's Globe Theatre
Shakespeare's Globe Theatre was a prominent performing arts venue in London during the Elizabethan era. Constructed in 1599 by Lord Chamberlain's Men, a renowned theatre company Shakespeare was closely associated with, the Globe Theatre was situated on the south bank of the River Thames.
It was a quintessential example of English Renaissance architecture and an impressive sight with its thatched, open-air design, 20-sided polygonal shape, and larger-than-life stage. Unfortunately, the original Globe Theatre was burned down in 1613, but the rebuilt version remained operational until 1642 the Puritans closed it. In 1997, a reconstruction of the Globe Theatre was completed, and has entertained audiences ever since.
Today you can take a tour or attend a performance at the Globe. If you are interested in Shakespeare, this 3-hour guided walking tour is highly recommended.
Borough Market for lunch
Borough Market is one of London's oldest and most famous markets in the Southwark district, not far from London Bridge. It boasts a wide variety of fresh produce, including vegetables, fruits, meat, cheese, and baked goods, as well as international cuisine and street food worldwide.
The market has a rich history, dating back over 1,000 years, and has been a trading hub for local farmers and merchants since the Middle Ages. Today, it is a popular destination for tourists and locals who enjoy its vibrant atmosphere, unique offerings, and exceptional quality. It has won numerous awards for its sustainability practices and commitment to supporting local farmers and producers.
Southwark Cathedral
Southwark Cathedral is a magnificent and historic church on the south bank of the River Thames, a short walk from Borough Market. It is believed to have been founded in the 7th century, making it one of London's oldest Christian establishments.
The current Gothic-style building dates back to the 13th century and is marvelous. The Cathedral features a stunning nave, a choir screen with detailed carvings, and an intricately decorated Victorian Gothic chapel. Visitors can admire a wealth of art within the Cathedral, including beautiful stained glass windows, sculptures, and several historic tombs.
Anchor Bankside
Anchor Bankside in Southwark is a great place to grab a pint and a bite if you don't eat at Borough Market or are in the area for dinner.
The Anchor Bankside is a historic pub located in Southwark, London. It was established in the 17th century and has been a popular gathering place. This charming pub retains its original ambiance with wooden beams, a cozy fireplace, and rustic decor.
The Anchor Bankside is also famous for being the home of Samuel Pepys, who frequently visited the pub and even wrote about it in his diary. Today, the pub serves delicious traditional British food and drinks and hosts live music events. Its riverside location offers the Thames and the iconic Tower Bridge views.
Sky Garden for Fabulous views
The Sky Garden is a stunning and unique attraction in the heart of London that offers visitors unparalleled views of the city skyline. Located atop the 20 Fenchurch Street skyscraper, known as the Walkie Talkie building, the garden boasts three stories of lush greenery and beautifully landscaped gardens, creating a serene and calming oasis that adds one of the world's busiest cities.
The garden is spread across three levels, each offering a unique experience, from the lower outdoor terrace to the indoor observation deck to the uppermost bar serving cocktails and fine wines. The Sky Garden is open to the public free of charge, making it a popular attraction, and has quickly become one of the city's most unique and sought-after venues. Although the Sky Garden is free, timed tickets must be reserved online on Mondays three weeks in advance.
5 days in London Itinerary: Day 4
Discover the wonders outside of London today! Step outside the city and embark on a day trip filled with adventure. Take advantage of the incredible day trip options available to you.
Head over to Stonehenge and Bath, a mysterious prehistoric monument just two hours from London. Marvel at its ancient beauty and immerse yourself in history. Bath is known for its' hot springs and Jane Austen.
If you missed the Changing of the Guard at Buckingham Palace, don't worry, you can catch them at Windsor Castle. Windsor Castle, a magnificent royal residence just outside London, welcomes visitors all year round. Experience the grandeur of the castle and get a taste of royalty.
Escape to the scenic Cotswolds, where rolling hills, charming thatched-roof cottages, and idyllic villages await. Take a stroll through this picturesque region and soak in its beauty.
Prefer to stay within the city limits? Explore the wonders of Greenwich, Hampton Court Palace, or Camden Town. Each offers full days of unique experiences and hidden gems waiting to be discovered.
After a day of exploration, unwind at your hotel or enjoy a delightful dinner and drinks with friends. The choice is yours!
5 days in London Itinerary: Day 5
Churchill War Rooms
The Churchill War Rooms, located in the heart of London, is a museum and memorial honoring the life and legacy of Britain's iconic wartime Prime Minister, Winston Churchill. The museum is housed in the underground complex where Churchill and his government operated during World War II.
It was a secret underground bunker that provided a haven for the key decision-makers and strategists during the air raids on London. The War Rooms were considered one of the most important operational centers during the war, as they were critical in shaping the course of the conflict.
The exhibits in the museum are incredibly detailed, allowing visitors to explore the warren of rooms where Churchill and his team worked tirelessly to defend their country against Nazi Germany. The museum has fascinating artifacts, including Churchill's famous cigar, his iconic Homburg hat, and the original bunker map room.
The museum also includes interactive exhibits that bring to life the events of the war, such as authentic sound recordings from the war era, wartime photographs, and films. Visitors can see the desks, phones, and equipment used by Churchill's team, giving them a sense of what it was like to work in the War Rooms.
A visit to the Churchill War Rooms is an absolute must for anyone interested in history, politics, or the Second World War. This private tour walks you through Churchill's London with admission to the War Rooms.
Shopping on Regent Street, SOHO, and Carnaby Street
After taking in the Churchill War Rooms, indulge in retail therapy on iconic shopping streets like Regent and Carnaby Streets. Regent Street is home to many International brands and several Flagship stores. Don't miss the unique and eclectic Liberty of London or the trendy shops in Carnaby. If you have enough time, walk to Piccadilly Circus to soak up the electric vibes.
If you are a quilter or love to sew, check out Liberty of London's famous fabric selection. A couple of yards of fabric is a souvenir that I bring home on every trip.
Lunch in China Town or Afternoon Tea
Are you feeling hungry? Head to China Town for a delicious Ji Li or New China meal. Or treat yourself to a classic British tradition with an elegant Afternoon Tea. I recommend either Claridge's or Fortum & Mason for extra indulgence. Brigit's Bakery in Covent Garden is another great option, with several specialty-themed double-decker buses serving afternoon tea.
Know the difference between Afternoon Tea and High Tea. Many people mistake High Tea for Afternoon Tea. High Tea is a meal eaten in the late afternoon or early evening, usually a cooked dish, bread, and desserts with tea. Afternoon Tea is served mid-afternoon to bridge the gap between lunch and dinner. It comprises scones, tea sandwiches, and delectable desserts with tea. Today it is a treat to have Afternoon Tea with the busy lives we lead.
West End Theatre Show
For all theater lovers, swing by the theatre early in the morning to get same-day tickets. You can score discounted last-minute tickets to a show in the renowned West End at the actual theatre. Are you looking for even more options for tickets? Explore Todaytix.com for a wide range of West End shows and beyond. There is a booth in the middle of Leicester Square labeled TKTS; this is another option if you are in the area.
When visiting London, I look for a play or musical based in the UK or that I can only see there. On our most recent trip in June 2023, we saw Operation Mincemeat. It was in a small theatre and a cast of five. It was fabulous and I highly recommend it! The longest-running show in London is Agatha Christie's The Mousetrap. It celebrated 70 years in 2022.
How to get around London
You have plenty of options – hop on the charming red Double-Decker Buses, dive underground on the iconic Tube, ride a bike, or enjoy a stroll. But be prepared to wear your walking shoes, as exploring London on foot can often be quicker than relying on buses or taxis. Even if you take the bus or Tube, you will end the day meeting your steps goal almost guaranteed. We rarely take a taxi unless it is very early or late in the day.
the Tube (Underground), DLR (Overground), and Bus
If you want to travel like a proper Londoner, the Tube (Underground) is the ultimate way to get around the city. And to make your journey even easier, get yourself an oyster card – it opens up all the doors to any mode of public transport in London.
Please do not buy a daily travel card, as it is not a value. There are travel caps for the day using your Oyster or bank contactless card, making the daily travel card more expensive.
Don't worry about getting lost because the CityMapper app has your back. It'll show you the best way to get to your destination, with real-time updates on bus and train arrivals, what it will cost, and even provides easy-to-follow directions. It will show you if you should walk, take the Underground, Bus, or the DLR. Sometimes it requires more than one!
The Tube is the ultimate travel companion, connecting you to every corner of London, and it's super user-friendly. So hop on board and explore the city hassle-free!
Black Cabs
Now, let's talk about the famous Black Cabs. These iconic taxis symbolize London's charm, and their drivers are truly remarkable. Unlike their counterparts in other cities, London's Black Cab drivers must possess an incredible knowledge of the city. They must pass the grueling Knowledge of London test, in which they memorize over 25,000 streets in the city. So you can trust that wherever you need to go, they'll know exactly how to get you there.
Use the apps GETT or Taxiapp UK for a Black Cab. Otherwise, it is fairly easy to pick one up on the street. Just look for the yellow light glowing on top and it is available for hire.
Uber
Uber is available in London, but I always try using a Black Cab because of their specialized training when taking a car.
Traveling from the surrounding airports into London
There are five main airports in the London region. Heathrow (LHR) is the largest; if you are arriving on an International flight, it will most likely be from here.
There are several ways to get from Heathrow to central London.
The new Elizabeth Tube line (Underground) is the cheapest and fastest option (about 6GBP). It will be the most straightforward option if you have an Oyster card upon arriving since this new line is very clean and has air conditioning, which not all tube lines do. There is also the Piccadilly line for an Underground option.
Then there is the Heathrow Express (approximately 17GBP). It is more expensive than the Elizabeth line and arrives at Paddington Station.
A cab stand is right outside Heathrow; cabs are available most of the day. This option can be pricey depending on where your hotel is located but plan on 60GBP to 80GBP to central London.
Hired Car, which will be the most expensive option (about 100GBP to central London). First-time visitors often choose this route for convenience and not having to deal with train stations and luggage. Use either Get Transfer or Holiday Taxis to arrange in advance.
There are also Gatwick (LGW), London City (LCY), Luton (LTN), and Stansted (STN). The train system (DLR or National Rail) can access all these airports. If you are flying to another country, consider these options, as some fares might be significantly cheaper than flying out of the well-known Heathrow.
Also, beware that some airports are a reasonable distance from central London, so map them beforehand to know your travel times. We like London City the best as it is small, close, and easily accessible via the DLR from the Bank tube station or Canary Wharf.
Where to Stay
We are big fans of the Marriott Bonvoy program and frequently stay at Marriott participating hotels. One of our favorite places to stay in London is the Montcalm East Autograph Collection, conveniently located near the Old Street tube station on the Northern line. There are great restaurants and pubs in the area. There's also a Sainsbury nearby for picking up snacks or beverages. For a quick grab-and-go, there is a Pret across the street.
We've also enjoyed stays at the Marriott Canary Wharf and the Residence Inn Tower Bridge. We love the Marriott Bonvoy program for its added perks and upgrades.
There is no such thing as finding a hotel close to all London attractions. A hotel is best chosen near a readily accessible tube station. Staying out of Zone 1 will save you money. Ensure an Underground (Tube station) within a 10-minute walk.
Cash & Cards
London is primarily a cashless city, which means you can rely on your credit card for almost any purchase, including public transportation, if you don't have an Oyster card. You will need some cash (not a lot), so hitting an ATM at the airport is as good as any place. Make sure to withdraw in pounds, not dollars, as your bank's conversion will be better than at home at the ATM or a currency store before you leave.
However, it's important to remember a few things to ensure a smooth experience. First, always pay in the local currency for the best exchange rate. Before your trip, notify your bank and credit card providers about your travel plans to avoid any issues. Also, check with your credit card provider to ensure they don't charge International Currency Fees. Lastly, ensure your card has a contactless feature for easier transactions. Enjoy your time in London hassle-free!
How to Stay Connected
Want to stay connected without breaking the bank on international fees? Look no further than Airalo. Order an eSim or SIM card from Airlo and enjoy hassle-free data wherever you go. Instead of paying exorbitant daily charges from your phone carrier, save big by purchasing a data eSIM or SIM card for a fraction of the cost. You can even keep using apps like WhatsApp to stay connected with friends and family back home.
London Tips & Tricks
Use the Nanny app: your go-to for finding a safe spot to store your bags during the day. Say goodbye to lugging around your belongings!
Instead of taking the traditional Hop-on Hop-off bus, why not try Local Bus #11 for an alternate sightseeing experience?
If you plan to explore London's attractions, consider the London Pass for convenience and savings.
When riding escalators, be polite and stand on the right side to keep the flow moving smoothly.
There are BLUE PLAQUES on the buildings all around the city. Stop and read them. London is rich in history; these plaques will tell you what historical event happened in the building or courtyard.
More Tips for London
You will need an adapter for the outlets. The UK outlets are different from the rest of Europe and the U.S. This is the travel adapter we use the most.
In the UK, they drive on the left side of the road. Look both ways when crossing the street to be extra cautious. Or look down; oftentimes, they will have warnings to tell you where to look.
Remember, in case of emergencies on the tube, text 61016 for immediate assistance. Dial 999 or 112 for emergencies.
Always know where your country's embassy is located. Keep a physical copy of your passport and other essential documents safely tucked away in the hotel room and give a copy to someone trusted at home.
From the Westminster Walk and Tower of London to The Sky Garden and Churchill War Rooms, there is so much to explore in the great city of London. Shopping at Liberty of London or on Oxford or Regency Streets, seeing Buckingham Palace, and taking a day trip out of London are all musts when planning your 5 days in London.
All these experiences add up to an amazing and informative 5 days in London itinerary that you can truly make your own – whether visiting as many sites as possible or relaxing and taking in the sights.
Did you find this post informative? Subscribe to our Newsletter list for more amazing itineraries like this for your next visit to London and other European cities.
A few other International Travel posts to help plan your trip.
And don't forget, always wear sunscreen!
Happy Exploring!